Air/Water/Oil Pressure Sensor Output 4-20mA/0-5V/RS485
This pressure sensor can be used for air/water/oil pressure measurement.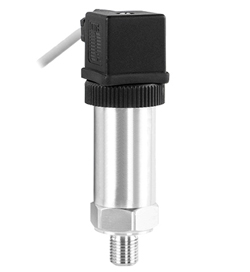 It uses the piezoresistive principle and the core components are made of high-performance silicon pressure cores. The measuring range -0.1~100MPa/ -1~1000bar/ -14~14503psi, medium temperature -40~+60℃ (-40~+140℉). The housing of the pressure sensor is a 304/316L stainless steel sealing structure, which has small size and light weight. It has good anti-vibration and anti-shock performance. The
pressure sensor
output signal are available with standard current (4-20mA / 0-20mA), voltage (0-5V / 1-5V / 0-10V) and RS485 signal.
Stability is an important performance specification for a pressure sensor. It refers to the ability of a pressure sensor to remain unchanged after a period of use. If the pressure sensor need to operating for a long time and it is difficult to replace or recalibrate it under certain environment, it requires high stability for the pressure sensor. The main factor affecting the
long-term stability of pressure sensors
is their application environment. Therefore, before selecting a pressure sensor, it is necessary to have a good grasp of the environment in which it is used, and select a right product according to the specific environmental characteristics.
Air/water/oil pressure sensor specification
Model

ATO-PRES-P300

Weight

0.4kg

Measuring range

-0.1~100MPa (-1~1000bar/-14~14503psi)

Pressure type

Gauge pressure, absolute pressure, sealed pressure

Measure medium

Air, water, oil (non-explosion proof area)

Power supply

DC 12V, DC 24V, DC 12-36V

Output signal

2 wire: 4-20mA, 0-20mA
3 wire: 0-5V, 1-5V, 0-10V
RS485

Accuracy

±0.5%FS, ±0.3%FS

Zero temperature drift

±0.03%FS/℃

Sensitivity temperature drift

±0.03%FS/℃

Long term stability

≤0.2%FS/year

Overload pressure

200%FS

Frequency response (-3dB)

5kHz~650kHz

Electrical connection

DIN connector type, M12 circuilar connector type, direct lead wire type

Thread of pressure connection

G1/4, G1/2, 1/4NPT, 1/2NPT, M14*1.5, M20*1.5

Response time

<10ms

Operating temperature

-40~+80℃ (-40~+176℉)

Medium temperature

-40~+60℃ (-40~+140℉)

Material

Housing: 304/316L stainless steel
Fill fluid: silicon oil
Pressure port: 304/316L stainless steel
Separating diaphragm: 304/316L stainless steel
Sealing: FKM (medium temperature ≤ +200℃/+392℉), EPDM, NBR

Cable length

2m

Protection class

IP65

Pressure sensor dimension drawing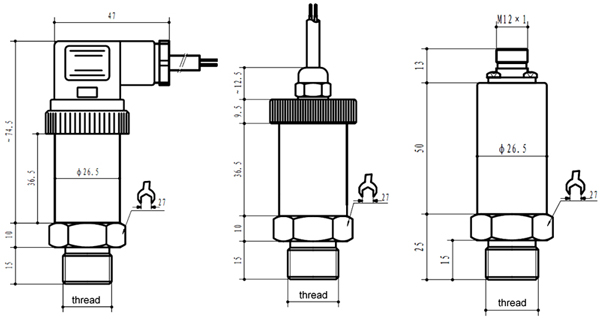 Pressure sensor wiring diagram