Digital Hydraulic/Air/Oil Pressure Gauge
The digital air/oil/water/hydraulic pressure gauge has a high-definition 4-digit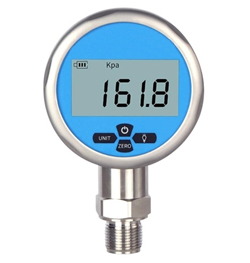 LCD screen with backlight, which can display measured pressure value in real time. Measuring range -100KPa~60MPa / -1~600bar / -14~8702psi are optional, accuracy 0.4%FS. The functions of the digital pressure gauge are as follows.
One-touch clear operation, calibration and zero setting at any time.
Use the panel buttons to switch directly between five international standard units (KPa, PSI, kgf / cm2, Bar, MPa).
The peak value of the measured pressure value can be automatically recorded and the historical peak data can be traced back.
Digital pressure gauge setting
There are four buttons on the digital pressure gauge, which are POWER button, UNIT button, ZERO button and LIGHT button. The specific operation and calibration settings are as follows.
POWER button: long press the POWER button for 5s to turn the power on/off.
UNIT button: Short press the UNIT button to switch units in the order of KPa, PSI, kgf / cm2, Bar, MPa. Long press the UNIT button for 5s to check the peak value (MAX). Short press the UNIT button to check the valley value (MIN).
ZERO button: Long press the ZERO button for 5s to complete the zero calibration.
LIGHT button: Short press LIGHT button to turn on/off the light. The time to illuminate is approximately 70s.
Digital pressure gauge specification
Model

ATO-PREG-Y290

Weight

0.5kg

Measuring range

-0.1~60MPa (-1~600bar/-14~8702psi)

Pressure type

Gauge pressure, absolute pressure, sealed pressure

Measure medium

Air, oil, water, hydraulic

Power supply

DC 3V (2*1.5V AAA dry cell)

Display

4 digit LCD display with backlight

Accuracy

±0.4%FS

Zero temperature drift

±0.03%FS/℃

Sensitivity temperature drift

±0.03%FS/℃

Long term stability

≤0.2%FS/year

Overload pressure

150%FS (<40MPa), 120%FS (≥40MPa)

Frequency response (-3dB)

5kHz~650kHz

Diameter of dial plate

80mm, 100mm

Thread of pressure connection

G1/4, G1/2, 1/4NPT, 1/2NPT, M14*1.5, M20*1.5

Sampling time

5 times/s

Operating temperature

-40~+80℃ (-40~+176℉)

Medium temperature

-20~+70℃ (-4~+158℉)

Material

Housing: 304/316L stainless steel
Fill fluid: silicon oil
Pressure port: 304/316L stainless steel
Separating diaphragm: 304/316L stainless steel
Battery compartment: ABS

Protection class

IP65

Digital pressure gauge dimension drawing