Steam/Fuel Oil Pressure Sensor for High Temperature
The pressure sensor can be used for steam/fuel/high temperature liquids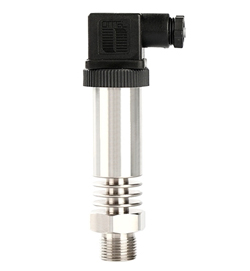 pressure measurement in high temperature. Its core component is a high-performance silicon pressure core based on the
piezoresistive principle
. It is made of 304/316L stainless steel sealing structure, which is small size and light weight. The pressure sensor have good resistance to vibration and impact. The pressure sensor contains cooling fins and users can select the appropriate number for cooling fins based on the measuring temperature. Measuring range -0.1~100MPa / -1~1000bar / -14~14503psi, medium temperature -40~ +300℃ (-40~ + 572℉). Its internal ASIC converts the mV signal to the standard current signal (4-20mA / 0-20mA), the voltage signal (0-5V / 1-5V / 0-10V) or RS485.
Accuracy is an important performance specification for pressure sensors, affecting the measurement accuracy of the entire measurement system. Therefore, it is not necessary to pursue high accuracy blindly. As long as the accuracy meets the accuracy requirements of the entire measurement system, users can choose a more economical and easy-to-operate
pressure sensor
among the same types.
High temperature steam/fuel oil pressure sensor specification
Model

ATO-PRES-P300G

Weight

0.4kg

Measuring range

-0.1~100MPa (-1~1000bar/-14~14503psi)

Pressure type

Gauge pressure, absolute pressure, sealed pressure

Measure medium

Steam, fuel oil, high-temperature liquid (non-explosion proof area)

Power supply

DC 12V, DC 24V, DC 12-36V

Output signal

2 wire: 4-20mA, 0-20mA
3 wire: 0-5V, 1-5V, 0-10V
RS485

Accuracy

±0.5%FS, ±0.3%FS, ±0.1%FS

Zero temperature drift

±0.03%FS/℃

Sensitivity temperature drift

±0.03%FS/℃

Long term stability

≤0.2%FS/year

Overload pressure

200%FS

Frequency response (-3dB)

5kHz~650kHz

Electrical connection

DIN connector type, M12 circuilar connector type, direct lead wire type

Thread of pressure connection

G1/4, G1/2, 1/4NPT, 1/2NPT, M14*1.5, M20*1.5

Response time

<10ms

Operating temperature

-40~+80℃ (-40~+176℉)

Medium temperature

-40~+300℃ (-40~+572℉)

Quantity of cooling fins (medium temperature)

3 pieces (0-180℃/32~356℉), 5 pieces (0-250℃/32~482℉), 7 pieces (0-300℃/32~572℉)

Material

Housing: 304/316L stainless steel
Fill fluid: silicon oil
Pressure port: 304/316L stainless steel
Separating diaphragm: 304/316L stainless steel
Sealing: FKM (medium temperature ≤ +200℃/+392℉), EPDM, NBR

Cable length

2m

Protection class

IP65

High temperature pressure sensor dimension drawing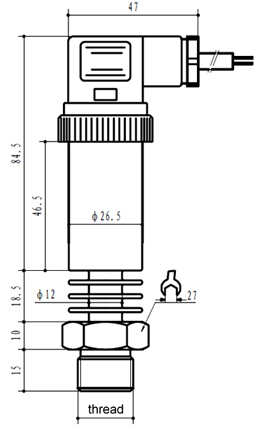 High temperature pressure sensor wiring diagram